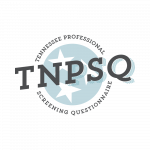 The Tennessee Professional Screening Questionnaire (TN PSQ) saw good engagement in its first seven months, with 182 Tennessee health professionals taking the screening from February through early September, and higher-than-average connection to nearby resources. That according to a study of the performance of the mental health screening tool conducted of results through September 9.
"I am so excited to see this project realized," said TMF Medical Director Michael Baron, MD, MPH, FASAM,. "Since I joined the TMF, I have always wanted a proactive approach to physician health – a way that could preempt an intervention or formal referral to the TMF, or an employer or state medical board action. This tool is needed, especially now when physician stress is increased because of the pandemic."
The TN PSQ debuted on February 3, just before the Covid outbreak. The tool utilizes the Interactive Screening Program (ISP) developed by the American Foundation for Suicide Prevention (AFSP), and was customized for health professionals served by the TMF.
SEVEN-MONTH DATA
Data from Feb 3-Sep 9 shows that while screeners opting to dialogue anonymously with a program counselor were slightly higher than average (31.1 percent vs. 30 percent nationally), one of the key findings is the higher-than-average rate of requests for referrals to a nearby resource (68.4 percent vs.40 percent) (Figure 1).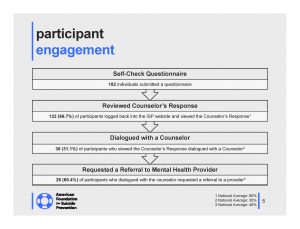 "The levels of engagement from TN PSQ participants were significantly higher than the national average users of this program, which speaks to how the program is meeting the needs of health professionals to connect to mental health services in a way that feels safe and accessible," said AFSP ISP Senior Director Maggie Mortali.
USER COMMENTS
There is also feedback both from health professionals accessing the TN PSQ and those referring others to the screening tool, indicating it has been helpful (Figure 2).
"Two things I like about the TN PSQ is being able to keep my anonymity — I'm scared to be seen as unreliable or unfit for the field, and I'm extremely prideful — but more importantly, being able to talk through writing," said one health professional in comments submitted on the TN PSQ site.
"I referred one of our doctors to the online resource and we found it awesome," said another health professional. "He is back at work after two weeks off and he was connected to two separate providers who are helping him greatly. …He has thanked me several times. I'm getting ready to put out another email to all our providers regarding this resource," he added.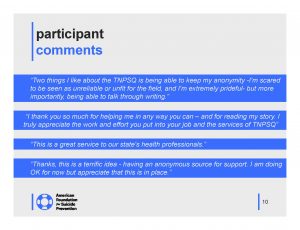 PROACTIVE RESOURCE
Dr. Baron said the tool does not replace the comprehensive help offered by the TMF Physician's Health Program but is one more resource in its arsenal to help Tennessee health professionals who are struggling with mental health problems, including depression and burnout at work.
"The goal is to connect more people to the help they need earlier in the process – to be proactive versus reactive – hopefully before there's a need for intervention by employers, a TMF referral, or licensing board action," he said.
For more information, visit e-tmf.org/tnpsq or contact the TMF at 615-467-6411. Contact Brenda Williams-Denbo at brendaw@e-tmf.org.