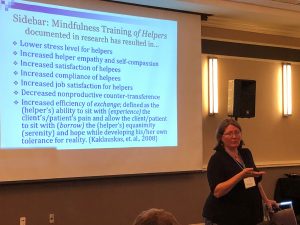 Mindfulness in Recovery was the focus for the TMF's 32nd annual Caduceus Retreat, held June 22-24 at the Four Points by Sheraton Hotel in Brentwood, TN. TMF officials said the 2018 event had the largest attendance ever by Physician's Health Program participants and graduates.
"It was the most well-attended Caduceus Retreat in my 16 years at the TMF," said Administrator Mike Todd, who added the workshops on mindfulness were well received.
"It was a success," agreed TMF Medical Director Michael Baron, MD, who said the keynote speaker, Christie Bates, LPC, led a well-thought-out program full of good information for both newcomers and veterans in recovery.
Program Sessions
Ms. Bates titled the weekend, "In Harmony with Reality: Developing Serenity through Mindfulness." The theme focused on disrupting the disease of perception, and showing attenders how working a path or program of recovery helps to bring perception in line with reality (mindfulness), so they can live more at peace with how things really are (serenity).
Saturday sessions included Mindfulness as a Way to See Clearly; The Dis-Ease of Misperceptions; Seeing the Dis-Ease with Compassion; and Cleaning Our Glasses with Gratitude. The Retreat wrapped up on Sunday morning with a final session titled To See Clearly is to Let Go.
Ms. Bates is the sole proprietor of Passati Counseling & Direction, a psychotherapy and spiritual direction practice in Nashville. Learn more at passaticounseling.com.
Questions?
For more information, contact TMF Field Coordinator Jeanne Breard at 615-467-6411 or jeanneb@e-tmf.org.
Photos