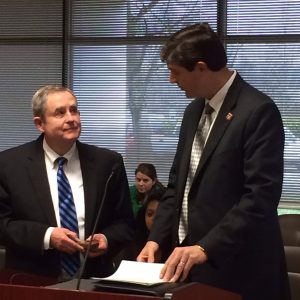 It is with a mixture of sadness and great appreciation that the Tennessee Medical Foundation announces the retirement of Roland W. Gray, MD, from the position of TMF Medical Director effective February 1, 2017. As Dr. Gray explained to someone recently, "I have grandchildren in several states and I am ready to spend more time with them." Dr. Gray leaves a legacy of growth, greater respect for our organization, and increased commitment to the cause of physician health in Tennessee and around the country.
In 2009, Dr. Gray and TMF Administrator Michael Todd worked with the Board of Directors to develop a succession plan for Dr. Gray's retirement. Dr. Gray shared with our board his plan to retire when he was 70 (February 2017) and work for six months with the new Medical Director to help in the transition. When we wrote the plan, 2017 seemed so very far away but suddenly the implementation of our search for a successor was upon us. Our board put together a Search Committee early this year to begin the process of finding the individual to assume the role of Medical Director; a person who would bring the passion, vision and energy to continue the growth of the TMF and the leadership to move it into the future.
With that in mind, the TMF Board of Directors is excited to announce the appointment of Michael Baron, MD, MPH, FASAM, as its new Medical Director, effective February 1, 2017. Dr. Baron comes to the TMF from his position as Medical Director of The Ranch. Prior to that, he had a private practice in psychiatry for eleven (11) years. Dr. Baron was appointed to serve on the Board of Medical Examiners in 2010 and again in 2015; serves as Chair of the Controlled Substance Monitoring Database (CSMD); and is a member of the Chronic Pain Guidelines Steering Committee. Dr. Baron also provides pro bono psychiatry services for the Davidson County Drug Court.
The strong foundation that Dr. Gray has laid for the TMF has been invaluable to our participants and a valued resource to the medical community around the country. He cannot be replaced. However, we look with anticipation as Dr. Baron takes on the role and continues to build on this foundation with his own unique vision and leadership style.
Kimberly J. Rosdeutscher, MD
President
Tennessee Medical Foundation Board of Directors