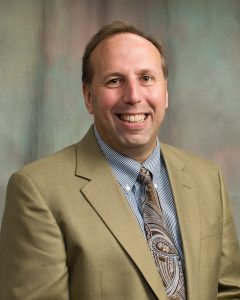 The Tennessee Medical Foundation is proud to announce that Medical Director Dr. Michael Baron is the new President-elect of the Federation of State Physician Health Programs (FSPHP), following the FSPHP's 2022 Annual Meeting in New Orleans, LA.
Michael Baron, MD, MPH, FASAM, has been medical director of the TMF Physician's Health Program since February 2017, after succeeding the late Dr. Roland Gray. A psychiatrist and addictionologist, Dr. Baron previously served as medical director of The Ranch, a 120-bed residential treatment program based in Nunnelly, TN. Prior to that he had a part-time, outpatient psychiatric practice combined with an inpatient academic practice at Vanderbilt Psychiatric Hospital.
While he had attended FSPHP meetings previously, Dr. Baron formally joined the organization when he became TMF Medical Director in 2017. He has served two terms as a Southeast regional representative on the FSPHP Board since 2018. He chairs the Federation's Ethics and Evaluation and Treatment Accreditation committees, and is a member of the Accreditation and Review Council and the Medication-Assisted Treatment (MAT) Advisory Panel.
"It is a great honor to serve as the current President-elect and future President of the Federation of State Physician Health Programs, an organization committed to improving the health of medical professionals, thereby contributing to quality patient care. There is not a more pressing issue for medical professionals than our own health and wellness, especially given these unprecedented and challenging times," Dr. Baron said, adding he is especially privileged to follow in the footsteps of the TMF's first full-time Medical Director, the late Dr. David Dodd, who served as the third president of the FSPHP from 1993-1995.
"Dr. Baron's work ethic is unparalleled and his care for medical professionals in the recovery community is evident in everything he does," said TMF Executive Director Jennifer Rainwater. "It is fitting that Dr. Baron should be the President-elect of the Federation of State Physician Health Programs as he has demonstrated exceptional leadership on multiple committees for the FSPHP over the past five years and has had an active role in standardizing important policies and procedures for state PHPs. Medical professionals in Tennessee and across the country will no doubt benefit from his tenure as President."
About Dr. Baron
Dr. Michael Baron obtained his MD and MPH degrees at Tulane University in New Orleans, LA. He completed his Anesthesiology residency at Washington University in St. Louis, MO, and his Psychiatry residency at Vanderbilt University, where he currently serves as clinical assistant professor in Psychiatry. He has maintained board certifications in Anesthesiology, Psychiatry and Addiction Medicine. His specialty is chronic pain and addiction. In 2006, he published original research showing that high dose opioids increased chronic pain scores.
Dr. Baron served from 2010-2017 as a governor-appointed member of the Tennessee Board of Medical Examiners (BME) before resigning to take the position at TMF. He served three years as chair of the Tennessee Controlled Substance Monitoring Database (CSMD). He has helped write Tennessee Department of Health rules pertaining the treatment of pain, prescribing controlled substances, and addiction, and serves on the steering committee for Tennessee Chronic Pain Guidelines. He helped write the Federation of State Medical Boards (FSMB) policy on Professional Sexual Misconduct in 2019 and the Impaired Physician Policy in 2020. Dr. Baron also serves as volunteer Medical Director for the Nashville/Davidson County Drug Court (DC4).
About FSPHP
The Federation of State Physician Health Programs, Inc. (FSPHP) is a national membership association of Physician and Health Professional Programs (PHPs). Member programs provide confidential assessment, referral to treatment, resources and monitoring for physicians and healthcare professionals, and those in training who may be at risk of impairment from mental illness, substance use disorders and other health conditions. Learn more at fsphp.org.