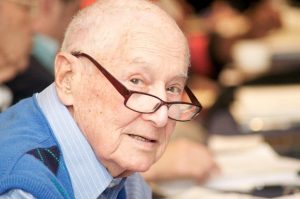 Dr. John B. Dorian, one of the founders of the Tennessee Medical Foundation Physician's Health Program (TMF-PHP), died on July 2, 2021 at age 95. The TMF is deeply saddened by his loss.
"When I first met Dr. Dorian and learned of his accomplishments, I was reminded of the phrase, 'Standing on the shoulders of giants,'" said TMF Medical Director Dr. Michael Baron, adding, "Without Dr. Dorian's understanding and foresight into physician health and wellness, the TMF would not exist as it does today. Thank you, Dr. Dorian."
"I never had the pleasure of meeting Dr. Dorian but I am grateful for his sterling effort in starting the precursor of the TMF," said Board President Dr. Timothy Davis of Chattanooga. "He was forward thinking and way ahead of his time. He has positively affected thousands of lives."
As president-elect of the Tennessee Medical Association (TMA) in 1977, Dr. Dorian attended an American Medical Association (AMA) presentation on the impact of impairment on the medical profession. He returned home and successfully proposed the TMA Board establish the Impaired Physician's Committee, which eventually became the TMF-PHP. He said he considered it one of his proudest accomplishments.
"It tackled a grave, grave problem in our profession," he told the TMF newsletter Physician Health in the Spring 2014 issue. Dr. Dorian lauded the lifesaving mission and work of the Foundation and its many volunteers over the decades. "It boggles the mind and instills a sense of pride and to me is a wonderful example of a professional who cares," he added.
A Memphis native, Dr. Dorian served with Gen. George Patton's Third Army before enrolling in pre-med on the G.I. Bill at the University of Tennessee in Knoxville, followed by medical school at the University of Tennessee in Memphis. He founded Frayser Clinic and practiced there for 30 years as a family physician, and then served as assistant professor in Family Practice at UTHSC-Memphis.
In addition to serving as president of the TMA, Dr. Dorian was president of the Memphis/Shelby County Medical Society and served in several positions with the AMA, being named its Family Practitioner of the Year in 1972. He volunteered in retirement at St. Jude Children's Research Hospital and St. Vincent de Paul's soup kitchen.
Dr. Dorian is survived by his six children and their spouses, eight grandchildren, and two great-grandchildren. Memorials can be made to St. Jude Children's Research Hospital in Memphis.