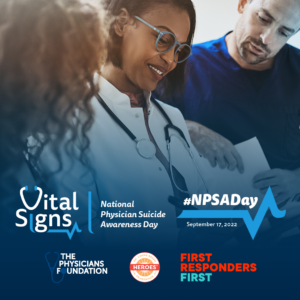 National Physician Suicide Awareness Day is on September 17, and the TMF has joined the Federation of State Physician Health Programs and other like-minded groups in signing on as a supporting organization. The annual #NPSADay effort is led by the Physicians' Foundation, the Dr. Lorna Breen Heroes' Foundation, and First Responders First.
#NPSADay is a reminder and a call to action to make time to talk – and to act –all year long so physicians' struggles don't become mental health emergencies. The TMF is proud to take action to prevent physician suicide by sharing resources to help improve physician wellbeing, including suicide prevention resources, tips for starting important conversations about mental health, a crisis management plan and more.
There are six actions to help reduce physician burnout and ensure physician and health professional  struggles don't become mental health emergencies:
Learn the Vital Signs
Share suicide prevention resources
Prepare before a moment of crisis
Check in with a physician
Understand and remove structural barriers
Create a culture of wellbeing
Take action today! Everyone has a role in reducing physician/health professional suicide, and you can learn about yours at NPSADay.org and on the TMF website "Forms & Resources" page under "Recovery & Mental Health Resources" at e-tmf.org.