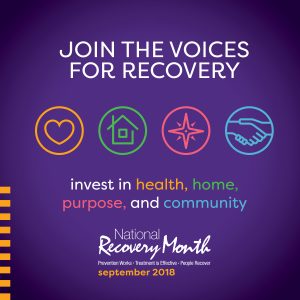 Prevention Works. Treatment is Effective. People Recover.
For over 40 years, the Tennessee Medical Foundation has been dedicated to this simple message. Through donor investments in the work of the TMF Physician's Health Program, countless lives have been recovered, and countless careers have been rescued.
We invite you to join all of us at the TMF in celebrating September as National Recovery Month. This year's theme says it all – Join the Voices for Recovery: Invest in Health, Home, Purpose, and Community. The TMF believes integrated care, a strong community, a sense of purpose, and leadership all contribute to effective treatments that sustain the recovery of people with substance use and mental health disorders.
This is an important time to honor those who are in recovery or have been instrumental in your own recovery. What a special way to say "I believe in you" or "Thank you." You can do that by sending $1,000, $500, $250 or $100 today. There are three ways to give in honor of Recovery Month:
Give online at e-tmf.org/support/
Mail a check to the TMF at 5141 Virginia Way, Ste 110, Brentwood, TN  37027
Call the TMF and donate over the phone: 615-467-6411, between 8am and 4:30pm Central time.
If you wish, we will notify your honoree to let them know about your tribute. Just please be sure to include their contact information with your check or on the website donor form.
By donating during National Recovery Month, you can make a profound difference. The TMF will use your contribution to continue the crucial work of Saving Lives, Saving Careers.
For more information, or if someone you know needs assistance from the TMF Physician's Health Program, please contact the TMF through this website or call 615-467-6411.