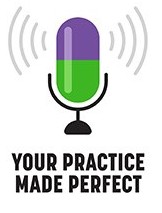 "I always knew that I would be caught." That from a TMF Physician's Health Program participant profiled in "Confessions of a Recovering Addict," the premiere episode of SVMIC's new podcast series, "Your Practice Made Perfect."
"Dr. Bob," as he is called in the podcast, details a 15-year addiction as a practicing physician and the events that led to his referral to the TMF Physician's Health Program by a hospital official. The TMF provided support and accountability, and helped him enter strong, consistent recovery. Dr. Bob credits the TMF with saving his life and his practice.
About the TMF
The TMF PHP is a 501(c)3 organization with a mission to protect patients through identification, intervention, rehabilitation, and the provision of advocacy/support for physicians impaired by addictive disease, mental or emotional illness. The program relies on grants and donations to fund its mission. Learn more and support the TMF.
About the Podcast
"Your Practice Made Perfect" was launched by SVMIC on February 1. Episodes will include interviews with experienced physicians and compliance, malpractice, and prescribing experts; topics will cover clinical issues, contracts, negotiations, and leadership.
The series is found on iTunes, YouTube, Google, and on SVMIC's website. Learn more and listen to the podcast.