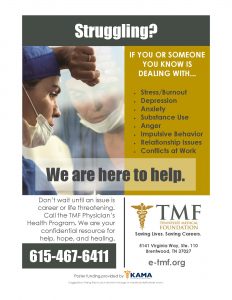 A $1,500 grant from the Knoxville Academy of Medicine Alliance (KAMA) will help underwrite a new physician health awareness poster by the Tennessee Medical Foundation.
"As spouses of physicians, we feel firsthand the frustrations of the practice of medicine and are a first line of support for our physician spouses." said Jacquelynne V. Prince of KAMA, who now serves as the TMAA's ex-officio representative on the TMF Board of Directors. "The many pressures of the changing scope of practice and physician burnout are issues we hope to address by knowing the resources available to our spouses,"
Destined for medical staff lounges, break rooms and other appropriate staff areas, the "Struggling?" poster outlines common signs of impairment, explains that the TMF PHP is a confidential resource for struggling doctors, and includes contact information for the Physician's Health Program. The plan is to distribute the poster to hospitals and medical practices across Tennessee over the next year.
KAMA-TMF Partnership
"KAMA has a long history of support for TMF; former KAMA President Sharon Gerkin served on the TMF's Quality Improvement Committee for several years," said Mrs. Prince.
TMF Administrator Michael Todd said the Foundation is happy to be partnering with KAMA again this year. A 2016 grant from the Alliance chapter helped fund speaker fees for its annual Caduceus Retreat for Physician Health Program participants, and a 2017 grant helped fund an update to the TMF's informational video.
"KAMA's Philanthropic Board understands the importance of healthy physicians, particularly the urgent need to address signs of impairment, burnout, or other problems early on, before they escalate and require more serious intervention or cause patient harm," he said.
"The TMF serves those who struggle with addictions and mental and emotional health problems, and allows the physician to be monitored and supported as they go thru the recovery process. KAMA is proud to support this agency that serves the medical family," added Mrs. Prince.
Get the Poster
Download the TMF-KAMA "Struggling?" poster here. Hospitals and medical groups can request multiple printed copies of the 8.5" x 11" poster by emailing Development Coordinator Brenda Williams-Denbo at brendaw@e-tmf.org.
For more information about the TMF, to learn the signs of impairment, or if you are concerned about a colleague, visit e-tmf.org or call 615-467-6411.
To support the TMF and its mission of Saving Lives, Saving Careers, visit our Support page.