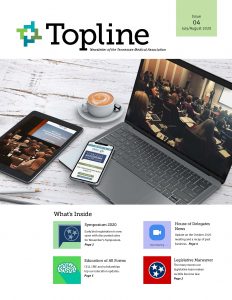 One of the TMF's longtime partners, the Tennessee Medical Association, recently shared data from the first six months of the Tennessee Professional Screening Questionnaire (TN PSQ), through August 29, in their latest member newsletter, Topline. Read the article here.
"The TMA is our founding organization, and one of our most enduring supporters, and we are grateful they are sharing this brand new resource with their physician members," said TMF Executive Director Jennifer Rainwater. The TMF subsequently shared more recent data and you can read it here.
Activity on the TN PSQ, a new mental health resource that debuted just before the pandemic hit Tennessee, has far exceeded expectations for its first year. That from TMF officials who said to date, 217 health professionals across the state have utilized the anonymous, interactive mental health screening tool to assess their mental health, dialogue anonymously with site counselors, and hopefully connect to the help they need.
TMF Medical Director Dr. Michael Baron said the tool does not replace the comprehensive help offered by the TMF Physician's Health Program but is one more resource in its arsenal to help Tennessee health professionals who are struggling with mental health problems, including depression and burnout at work.
"This tool is needed, especially now when physician stress is increased because of the pandemic., he said." Data shows more than 80-percent of the health professionals accessing the TN PSQ have mentioned CoVid as a factor in their mental health, both at home and in the workplace.
"The goal is to connect more people to the help they need earlier in the process – to be proactive versus reactive – hopefully before there's a need for intervention by employers, a TMF referral, or licensing board action," he explained.
For more information, visit e-tmf.org/tnpsq or contact the TMF at 615-467-6411 or brendaw@e-tmf.org.